Communications and Administration
Good and clear communication is vital for any literature covering retirement provision as it is a complicated subject. Verbal explanations must also be easy to understand if members are going to be able to make good decisions. Many pension providers now have helplines to assist members in answering queries.
Misunderstandings often arise in conversation and, especially in formal situations, people will not always readily admit to the fact that they don't understand what is being said to them. There are some basic principles that are useful to apply to all methods of communication and can help you to avoid situations like that of Jack and his customer.
Focus on who will receive the communication
Be sure of your objectives in communicating
Find an easier way to explain
Make a point and then support it
Check that the person receiving the message has understood it
Don't use jargon
Jargon should be avoided if at all possible. It is often used as a short cut but should not be used when communicating with clients or members of the general public. The best example of jargon is the use of acronyms to describe something (e.g. TPAS, PMI, GMP).
Trustees should also use all communication media available to them to make sure that any messages that they want to convey to their membership get through. This can include: electronic communications via websites, social media, emails to members at work or at home, telephone helplines as well as the more traditional printed literature. Many of the parties involved in pensions have Facebook or Twitter links that individuals can access to easily find out information about pensions. In addition, YouTube is providing a platform for PensionTube to help people understand the facts about UK pensions. This brings together videos from independent experts, charities and the government on the changes happening to UK Pensions that individuals want to know about. Take a look at this: https://www.youtube.com/user/PensionTube
We can see the importance of clear communication and this section focusses on the need to give advice on how to communicate clearly. We also look at why accurate record keeping is important and what disclosure requirements exist for pensions provision.
1. References
There isn't a direct reference to an area of the Study Manual here, as it forms a 'golden thread;' throughout all of the materials - the Retirement Provision Certificate Study Manual 2023 can also be found in pdf format in the Resources Page of this website.
2.Think about it
Good communication
Good and clear communication is vital for anyone working within retirement provision as it can be a complicated subject.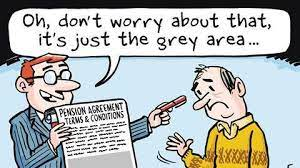 Jason is talking to a potential client:
"If you believe the scheme administrator has provided you with an incorrect ABS and SMPI statement then you could invoke the IDRP for the scheme or go to TPAS, TPR or the PO"
The client hears and thinks:
"If the blah blah blah complicated and boring blah blah. Blah blah blah jargon is incomprehensible blah blah...I wonder what is on TV tonight?"
I'm sure you agree that this could be better phrased! Can you think of a way to say the same things to your client, so that they are more likely to understand it all?
Write down your answers to structure your understanding/revision.
3. Fact Finding
The General Data Protection Regulation (GDPR)
GDPR affects the record keeping side of pensions administration, aiming to make sure that individual's rights are protected.
Regulation (EU) 2016/679 on the protection of natural persons with regard to the processing of personal data and on the free movement of such data. The regulation entered into force on 24 May 2016 and applies since 25 May 2018.
Can you list the seven key principles of this Act?
4. Test
You can now check your knowledge by a short test. Once completed then check your answers against those given.
Communication and Administration Test